Isola di Cocco

"Paradise found! Thank you for my best holiday ever."
- Sarah, England
If you fantasise about relaxing in a tropical cottage or lying on the beach, lulled by the sound of waves and rustling palm fronds stirred by a tropical breeze then Isola Di Cocco is your dream destination.

Isola Di Cocco or the 'Island of Coconuts' is encircled by soothing water and scenic flora. It's Bela Ayurvedic Centre offers profoundly relaxing and purifying treatments. Enjoy recreational fun, lounge on the hammock by the large freshwater pool and enjoy cultural performances in the evening. Each traditional villa has a balcony with a breathtaking view of nature's bounties.

Resort Region
Isola Di Cocco is tucked away in the southwestern tip of India in the state of Kerala, the destination rated as one of the 50 top "must see world destinations" by the National Geographic Traveller Magazine.
Bordered by the Arabian sea and clear river, Isola Di Cocco is spread across 30 acres of lush palms and greenery.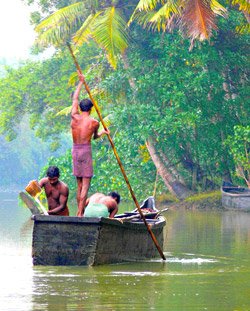 Here nature offers guests a gorgeous canvas or a riverbank, a private beach, lakes, ponds and backwaters.
Resort Location Map click here
Travel
Isola Di Cocco's complementary shuttle will collect and drop guests off at any of these destinations. (minimum five nights stay for free shuttle.)
Nearest Airport Trivandrum, 32 kms 45 minutes drive
Nearest Railway Station Trivandrum, 28 kms 45 minutes drive
Nearest Bus Station Poovar, 02 kms 5 minutes drive
Cuisine
Part of the pleasure of the resort lifestyle is the delicious dining. Isola Di Cocco's cuisine is exceptional and the service impeccable. Enjoy the multi-cuisine or specialty Ayurvedic dishes at the romantic seaside setting. Refreshments and snacks are also served at the lively open-air bar.
Resort Facilities
A sense of exclusivity is evident immediately as you approach the entrance of Isola Di Cocco, which offers a warm and personal welcome. You will find secluded clusters of villas, each with its own balcony offering breath-taking views and reflecting typical Keralan architecture with flair. Lush, tropical landscaping, oceanfront pools and palm-laced stone walkways create a hideaway of tropical privacy.

There are a total of 60 Rooms including 16 standard rooms , 40 heritage rooms & 4 suites. All the rooms have a garden view and 10 rooms have a lake view.
Amenities include
24 hrs running hot & cold water.
Automatic back-up generator
Room Facilities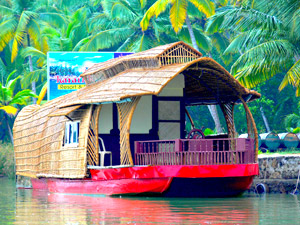 Standard Room
These are modern single rooms with traditionally carved wooden furniture. All rooms have a verandah which face a colourful, well-landscaped exotic garden. Spread out in clusters, the rooms face the waterfront.
Amenities
CCTV
Telephone
Mini fridge
En-suite Bathroom with the sky as the roof.
Hot drink making facilities.
Heritage Rooms
Heritage rooms are wood paneled with teak or rosewood. Each room originates from the ancient traditional Kerala design called the Tharavadu.
The rooms have been transplanted panel by panel with utmost care to preserve the original design. Guests staying here feel what it means to live in a bygone era where time stood still and life was leisurely, simple and gracious.
The furniture are all hand-carved antiques.
Amenities
King size bed
CCTV
Telephone
Mini fridge
En-suite Bathroom with the sky as the roof.
Hot drink making facilities.

Suites
Each stylish suite has a verandah, a living room, a bedroom and an open-to-sky modern bathroom. These suites are centrally air-conditioned.

Amenities
CCTV
Telephone
Mini fridge
En-suite Bathroom with the sky as the roof
Hot drink making facilities
Complementary Services
Shuttle service to and from Trivandrum (only applies to guests staying a minimum of five nights.)
Welcome drink
Traditional aroti greeting with tikka (sacred paste)
Daily house keeping

Extra Chargeable Services
Activities or tours
Laundry
Childcare
Ayurvedic Experts

At the resort the Bela Ayurveda Centre will take care of all your health and pampering needs. Supervised by two experienced Ayurveda Doctors and 30 staff members the centre prides itself in offering the cream of Ayurvedic therapies.
Dr. Sankaran Nair (BAMS, MD), an eminent Ayurvedic Physician and former Dean of the Government Ayurveda College, Trivandrum, heads the center. Daily consultations are carried out by Dr. P. Anilkumar (BAMS)
The Ayurveda center offers guests a unique blend of Ayurvedic treatments for the preservation of health and cure for diseases in the time-tested tradition of millennia.
Ayurvedic Therapies for specific conditions

SHIRODHARA
In this treatment medicated oil or milk or buttermilk is poured on the forehead in a rhythmic way for 30 to 45 minutes. This is mainly for de-stressing, removal mental tension, headache, insomnia, and impaired memory.


SHIROVASTHY
A cap is fitted on the head and medicated oil is poured in to it, oil to be held in position for 20 to 30 minutes. This treatment is effective for insomnia, facial paralysis, numbness in the head, dryness of nostrils and throat, headaches etc.

ABHYANGAM
This is the anointing the whole body in oil or a specific part and a gentle massage along the circulatory channels for 45 to 60 minutes. This is very useful for the removal of fatigue, Vatha problems and sleeplessness; it also improves eyesight, skin tone and lengthens life.

UDWARTHANAM
. A massage with warm medicated powder in the age-old traditional prescribed method, for 30 to 45 minutes. This is effective in reducing weight; giving stability and strength, giving better skin luster and for Kapha pre-dominant conditions.

PIZHICHIL
This treatment with warm herbal oils is anointing the whole body with the same, in a rhythmic manner for about 45 to 60 minutes. This treatment is very useful in Rheumatic problems, arthritis, paraplegia, hemiplegia, paralysis, sexual weakness and nervous disorders.

NAVARA KIZHI
This is a type of Sudation treatment in which the body is made to perspire by the application of special boluses which contain cooked herbal rice inside. Here the massage is done with this bolus after dipping it in a mixture of milk and decoction. This is for 45 minutes to I hour. And is effective for rheumatism, joint pain, emaciation, muscle wasting etc.

NASYAM
This is a Panchakarma treatment in which herbal juices or oils are dripped in to the nostrils. This is a cleansing treatment for the head and effective for facial paralysis, sinusitis, and headaches and in some mental disorders.

LEPANAM
This is the application of herbal paste on the affected parts of the body. A treatment, for various types of inflammatory conditions, gout, arthritis and skin diseases.

KARNA DHOOPANAM
Medicated anti septic fumes are puffed into the ears for 5 to 10 minutes. This procedure helps to clean and detoxify the ear.

THARPANAM
The treatments to cleanse and prevent diseases in the eyes where upon eyes are treated with various herbal preparations.

MUKHALEPAM
The facial treatment with different kinds of herbal paste. Very effective in removal of wrinkles, cellulites, blackheads etc. This treatment beautifies and rejuvenates the facial skin.

REJUVENATION MASSAGE
This is a special kind of massage in which the whole body is massaged using hands and foot for 70 to 90 minutes. This is best for rejuvenating the body, increase sexual power, circulation and also reduce mental tension.

GENERAL MASSAGE
This is the full body massage with herbal oil by hands for 45 to 60 minutes to tone up the body, to improve the blood circulation and enhances lymphatic drainage.

CREAM MASSAGE
Massage is done to the whole body with special herbal mixtures for 60minutes. This is very effective for improving the normal skin complexion; tone up the body and for cellulites.

HERBAL STEAM BATH
The body is treated to medicated steam introduced in to a wooden cabin for 15 to 20 minutes. It is effective in improving the circulation, eliminating impurities, and fatigue.

KIZHI
Kizhi means bolus. Special herbal leaves or powders are mixed in oil and tied up in a muslin bag. This bag is used to massage the body or the affected parts with this special bolus after dipping it in warm oil. This is very effective in relieving pain, inflammation and stiffness.

KATIVASTHY
The body is treated with warm medicated oil that is kept on the lower back of the patient in a herbal paste boundary for 30 to 45 minutes. It is useful in low back pain, spondylosis and other problems in the lower vertebral column.

HEAD MASSAGE
This massage with special strokes is extremely helpful in relaxation and sleep.
Best Seasons to Stay
September to March is the mildest climate but Ayurvedic treatment often reaps good results from June to September.
Local Attractions
Kovalam Beach
Trivandrum city for arts, crafts and clothes shopping.
The ancient Hindu Padmanabha Swamy temple.
Activities
Beach Volleyball
Beach Cricket
Traditional / contemporary cooking classes
Indoor games
Trekking, visit to the local fishing village
Crab hunting on the backwaters
Caroms
Table Tennis
Canoe Rowing
Bird Watching
Paddle boat
Swimming
Catamaran sailing
House boat
For a fee the following is also be arranged:
Sightseeing tours
Boat excursions
Kayaking
Paddle boats
Cultural Musical Nights.
Martial arts displays
Yoga
Astrology
Meditation
Conferencing & Banqueting
The Isola Di Cocco has the capacity to cater for a function of 90 people.
Check –In Time : 2pm
Check Out Time : 11am
Guest comments
"A magical experience. I feel refreshed and ready to face the world with a new glow. A million thanks."
– Shelley, France
The staff were friendly and very helpful . . . nothing was too much trouble.
The rooms were big, clean and very comfortable... loved the outdoor bathroom... great for hanging out the washing.
The food couldn't have been better and plenty of it... special orders were encouraged.
Overall the choice of Isola to do these treatments was excellent. I intend to go there again.
- Jennifer Grove, March 2007
Hotel
Great people : so caring! always ready to help.
GREAT FOOD - food was a highlight and Im missing it still...not one grumbly tummy
and fantastic variety and flavours, all cooked with a light hand. Considering it was mostly
buffet, the quality was amazing. Fresh juices, fresh fruits and desserts all very good. Delicious!
Accomodation: beautiful room/cottage. We are both very fussy as far as our accomodation goes.
and we both loved the buildings. We appreciated the architecture - it was less resort style
and a more traditional Kerala style. The grounds had a wild feel - rural somehow.
Once again, not resort-like nor manicured.
Ayurvedic Clinic
Staff & Doctors: Caring and friendly, professional but relaxed.
Treatments were beautiful and healing. They felt abundant - an
abundance of oil and herbs, of caring hands.
We did visit a couple the new resorts springing up nearby, and although they looked extremely
beautiful and were more luxurious and resort-like, we felt Isola was more to our taste.
Isola felt like the real deal..many Indians were staying there and it wasn't like a Western cloister...
although it is very isolated (Isola-ted! ) from village life.
- Suzy Flowers, March 2007