Beach and Lake Ayurvedic Resort

"It was exactly what I was looking for, a calm place to relax and recuperate. Beach and Lake is very quiet and personal so you feel well taken care of. The food was fantastic and I would like to commend the high quality of service and the friendliness of staff."
- Marina Kalisky, Programme Officer/ Nutritionist with the United Nations World Food Programme.

This healing hideaway offers superb health packages, yoga, meditation, kerala martial arts and ayurveda courses. Its serene setting is perfect to renew body and spirit.
Resort Region
Beach and Lake is an intimate Ayurvedic resort nestled between Pozhikkara Beach and the Parvathiputhanar and Karamana rivers just 8 km from Trivandrum airport and popular Kovalam Beach. The stunning scenery on the 2 acre property includes the azure blue of the Arabian sea, a white sanded surf beach, lush coconut palms and over 38 rare bird species.

Travel
The reliable Beach and Lake Resort staff will greet you at Trivandrum airport, bus or train station and chaffeur you eight kilometers to the resort. When it is time to depart their complementary shuttle will drop you wherever you need to go around Trivandrum town.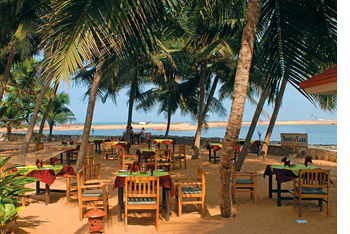 Cuisine
Many guests comment on the delicious and diverse meals served at Beach and Lake's multi-cuisine restaurant. They offer specially prepared healthy Ayurvedic cuisine, vegetarian, non-vegetarian, Italian, continental and Chinese. Special diets are diligently catered for. There is an indoor and outdoor eating area with breathtaking natural views.
Resort Location Map click here
Resort Facilities
Beach and Lake has a spacious restaurant, a yoga hall for 30 people, library and the fresh water lake or sea for swimming at their doorstep.

There are 8 self-contained air conditioned cottages. Five are deluxe doubles and three are standard deluxe doubles. All accommodation has a sea and lake outlook.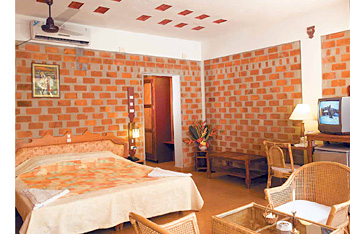 Room Facilities
Rooms all have ensuite bathrooms and 24 hour room service.
Facilities for babies and childcare are available.
Complementary Services
Pick up and drop off from and to Trivandrum or Kovalam.
Welcome drink.
Daily housekeeping.
Extra Chargeable Services
Laundry
Childcare
Courses
Tours
Cultural Performances

Ayurvedic Experts
Beach and Lake have qualified and experienced Ayurvedic doctors all with a Bachelor of Ayurvedic Medicine and Surgery degree. The potent Ayurvedic medicines employed are from the reputable Vaidyaratnam Aushudashala and the esteemed Kottakkal Arya Vaidyashala. The supervising physician is Dr V. Franklin is one of the best known Ayurvedic doctors in Kerala and a specialist in Panchakarma treatment. Dr Franklin hails from a traditional Ayurvedic background and a family that can trace their tradition back 400 years. Formerly the District Medical Officer for the Kerala Government, Dr V. Franklin has travelled the world giving seminars and consultations.
In 1999 he was named: 'Tourism Man of the Year' for so successfully combining tourism with Ayurveda.

Ayurvedic Therapies for specific conditions
HEALTH CARE PROGRAMME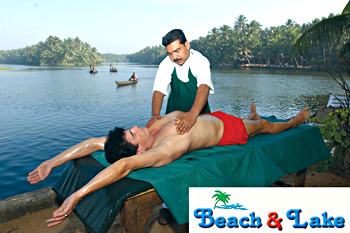 1. BORN TO WIN:
This is a special treatment to stimulate the vital points. In this, they use the traditional knowledge of vital points (Marmas) along with Acupressure and Holistic bodywork. This energizes your inner selves, attaining equilibrium of Vata, Pitta and Kapha thus attaining the temperance of mind and become more successful in life.
2. REJUVENATION THERAPY:
This treatment is a body massage with hand and foot with a medicated oil and cream. It includes internal rejuvenative medicines and medicated steam bath. This therapy is 90 minutes to 2 hours per day depending on ones body structure for 7 to 14 days. It is good to rejuvenate mind, body and soul, to tone up skin, to strengthen all systems so as to achieve ideal health and longevity.
3. YOU AND YOUR SPINE:
This is a special package for your spine problems. It will strengthen the back muscles and prevent degeneration of bones and it will also prevent nerve compression. This is very good for spondylosis, post traumatic problems (Post accidental) sports injuries etc. This treatment includes Body massage, Snehapanam, Virechanam, Kadi Vasthi, Sneha Vasthi, Kashaya Vasthi, Pizhichil, Gnavarakizhi etc.
4. BODY MIND AND SOUL:
This is an absolute stress reliever with a combination of yoga meditation, Ayurveda and Holistic touches. Through this program your body and mind are purified and more important; it attains the temperance of mind.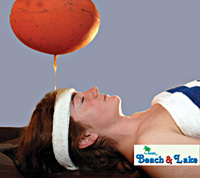 5. BODY IMMUNIZATION / ANTI-AGING TREATMENT:
This is a prime treatment in Ayurveda for reducing aging process, arresting the degeneration of body cells, and immunizes the body system. Giving Rasayana (very special Ayurvedic medicine) internally is a main part of this program, based on Panchakarma and Swetakarma treatment. This package includes Body Massage, Snehapanam, Vamanam, Virechanam, Nasyam, Sneha Vasthi, Kashaya Vasthi, Pizhichil, Gnavarakizhi, Tharpanam, Sirovasthi, Karnapooranam and Medicated Steam Bath.
6. SLIMMING PROGRAMME:
This program includes massage, in take of herbal juice, herbal preparations as advised during this period. There are two steps of massage.
1. Medicated Herbal Power Massage
2. Medicated Herbal Oil Massage
7. BEAUTY CARE PROGRAMME:
This program includes massage with oil, powder and cream. Also includes body pack, face pack and intake of herbal tea. It will increase your skin complexion and beautifies the body figure.
8. (A) PANCHAKARMA CHIKITSA:
It is a process of purifying the whole body to attain proper balance of Vatha, Pitha and Kapha based on Panchakarma treatment in our traditional way. This package includes Body Massage, Snehapanam, Vamanam, Virechanam, Brahmana Vasthi, Dhara, Pizhichil, Gnavarakizhi, Tharpanam, Kamapooranam, Body Pack, Anjanam, Gandoosham and Medicated bath.
(B) PANCHAKARMA PROGRAMME:
You get all the above treatments but there wouldn't be any rest days in between the treatment
9. KARNA POORANAM:
This is a process in which medicated fumes are applied to the ears for 5 to 10 minutes. This process helps to clean the ear and avoid ailments associated with the ear.
10. THARPANAM:
This is a cleaning process for eyes, which gives a cooling effect, prevents cataract and strengthens the optic nerve.
11. FACE PACK:
This is the traditional Ayurvedic facial, which is very good for your face. In this massage, Sudation Therapy, Face Pack (Ayurvedic) etc. are given accordingly. This will beautify your skin and tone up your face muscles.
12. (A) CHAKRA MASSAGE PROGRAMME:
This massage is to stimulate the chakra points of the body.
(B) REJUVENATION MASSAGE:
This massage includes a body massage with Herbal oils or Herbal powder by hand and foot, head massage, faces massage, for 1/2 hours. This is good for rejuvenating the body, reduces mental tension, sexual weakness and improves vitality etc.
(C) GENERAL MASSAGE:
Body massage with herbal powder or oil for one hour by hand to tone up the body to improve blood circulation etc.
13. MEDICATED BATH:
Certain precious herbal leaves and herbs are boiled in water for 24 hours and the same water is used for bathing. It beautifies the skin and removes all impurities.
14. MEDICATED STEAM BATH:
Certain precious herbal leaves and herbs are boiled and the steam is passed to whole body for 10-20 minutes. This is good for certain skin diseases, to eliminate impurities from the body, to improve tone of the body, to reduce fat etc.
15. BODY PURIFICATION THERAPY
It is a process of purifying the whole body to attain proper balance of Vatha, Pitha and Kapha by Panchakarma and Swetakarma treatment. This will also purify the gunas and doshas of mind viz. Satwa, Rajas and Thamas. The 15 days package process includes body massage, Snehapanam, Vamanam, Nasyam, Virechana (medicated purgative) Sneha Vasthi, Kashaya Vasthi, Pizhichil, Ghavarakizhi, Tharpana, Sirovasthi, Karnapooranam and Medicated steam. Bath.
Best Seasons to Stay
All months have a pleasant climate. Though June and July are generally very wet this is deemed an optimal time for enjoying Ayurvedic treatment.
Peak season is from 01st October to 30th April and low season is from 01st May to 30th September each year.
Local Attractions
Kovalam Beach, Trivandrum city and Padmanabhaswamy temple.
Activities
Swimming
Television
Games
Bird watching
Kerala cultural performances
Shopping tour
For a fee the following is also available:
Yoga
Meditation
Astrology
Martial arts
Backwater tours
Courses
1. Massage course 15 days (30Hrs)
2. Know How of Ayurvedic principles 1 Month (60 Hrs)
3. The Principles of Panchakarma Treatment 1 Month (120 Hrs)
4. Astrology 1 Month (26 Hrs)
5. Kalarippayattu (Certificate Issued) 1 Month - session 90 mins
(Indian Martial Arts)
Check – In Time : 12 noon
Check Out Time : 12 noon
Rates/ Packages
Reservations
Bookings have to be made well in advance (minimum 15 days).
We will contact you with payment details once the reservation is finalised.
Guest comments
"I stayed for 6 nights at Beach and Lake. It was my first visit to Kerala, and I had specifically searched the internet for a place that offered yoga and ayurveda treatment. For me it was what I had been looking for, a calm place to relax and recuperate. I went in to Kovalam Beach to compare, and although there is an array of hostels offering yoga and ayurveda all around, the Beach and Lake is special in the way that it is placed a bit aside from the more touristy areas, and is surrounded by very serene nature. What makes Beach and Lake special, is that it is very quiet and personal, so you feel so well taken care of, you get very close to the staff and they look after all your needs.
The Ayurveda doctor comes to check up on you once a day, the yoga teacher is flexible and adapts to your request etc. The food is absolutely fantastic, and again, the chef is very flexible and all the staff do everything they can to make you happy. This is the beauty of a small place. So, I would defenitely recommend it to anyone who is looking for a small place where the only sounds are the birds and the waves of the ocean... The rooms are always kept clean, and you are provided with soap and towels. The view is beautiful, as the resort is situated between the river and the ocean. - Marina Kalisky, Programme Officer / Nutritionist with the United Naitons World Food Programme
"I had a very good time at the Beach and Lake Ayurvedic resort (please do excuse my mistakes in English as I am French speaking). It is a cosy and authentic place nestled between the sea and a backwater. Very peaceful. It is not a touristic beach (with sunbeds) There are a lot of fishermen working on it, it is fascinating to look at them and you can also do long walks on the beach. The sea is very wild and it is dangerous to try to swim in it.
The food and the service are excellent and the rooms are very nice. I could everyday choose what I wanted to eat according to the diet the doctors had advised me to follow. The menu is very diversified and everything I tried was very good. The waiters are very helpful and friendly. In Beach and Lake I somehow felt at home!
It was my first experience in Ayurvedic medicine which had been recommended to me by a good friend who is a doctor (generalist and acupuncturist).
The treatment was excellent and the two doctors whom I saw daily are very professional. They listened to me carefully and gave me the treatment I needed. The three women who were taking care of me are also very nice (caring). Day after day I could feel my nervosity and my pain going out of my body and my mind and peace replacing it . I still feel it now. The yoga courses every morning are also very important and the teacher is very good and helpful.
After the two hour ayurvedic treatment I could lay quietly in the sun and rest. It is also easy to go either to Kovalam or Trivandrum with a rickshaw (3 wheel) or a taxi. As the hotel is quite small, we meet the other guests and do things together (shopping, beach, visits...) the visit on the backwaters is very nice."
- Martine Capron, France